Bed Bugs Are Not Welcome In Any Sacramento Home
No one wants bed bugs to invade their home and, if you're honest, you'll probably admit that you don't think they ever will. After all, they are only in filthy locations, aren't they? Unfortunately, that's not the case. Bed bugs don't travel around looking for dirty homes to move into. Instead, they are brought inside on people's clothing, bags, boxes, and luggage. You can pick them up anytime you're out in public, and once they get inside your home, they'll begin to increase their population. If you suspect you have bed bugs on you property, Neighborly Pest Management has the bed bug control services you need to eliminate them.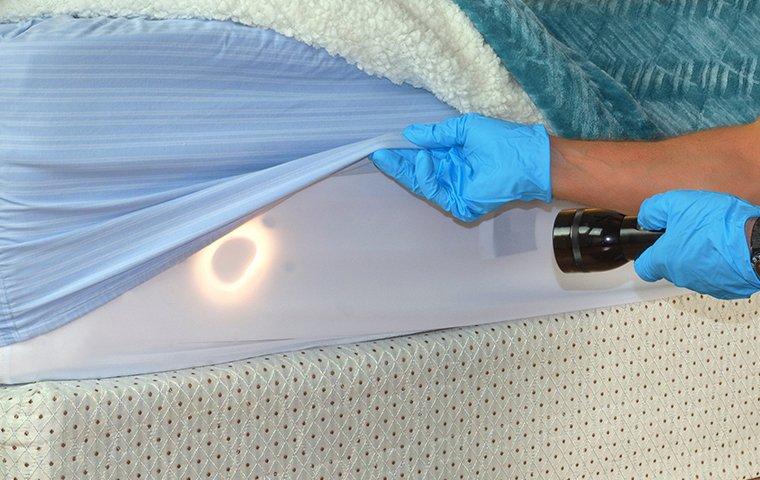 Our Bed Bug Control Offerings
Free Bed Bug Inspections
Before performing any type of treatment, it's important to confirm that you do, in fact, have a bed bug infestation. Some pests look similar to bed bugs but are not, and we want to make sure that we're performing the right kind of treatment to take care of the pest that's causing problems.
Our bed bug inspections also allow us to determine how how widespread the infestation has become. This information helps us recommend a course of treatment that will work best for your particular situation.
Conventional & Steam Treatments
Our most common form of treatment is a combination of two methods: the conventional treatment method, and the steam treatment method. We begin with a steam treatment because bed bugs cannot withstand high temperatures. We then apply a product to eliminate any bed bugs left behind. This service also includes the placement of bed bug monitors and mattress encasements.
Included in this service are two follow-up visits. During each visit, we'll perform an inspection and check the monitors and mattresses. Based on the findings of the inspection, we'll decide if re-treatment is necessary. Once your home is deemed free and clear of bed bugs, a 30-day warranty goes into effect. Because of the way that bed bugs get into a home, this warranty does not cover new infestations, only bed bugs that remain from the initial infestation.
Heat Chamber Treatments
Although rarely necessary, we offer heat chamber treatments for hard-to-treat furniture. These pieces typically have many crevices, indents, and hard to reach areas that don't respond well to our conventional and steam treatments. If that is the case, our pop-up heat chamber takes care of the job.
Fumigation Treatments
If you have a heavily infested home or you live in a multi-family unit, a fumigation treatment may be the most effective course of action. We will tent your house and release a gas inside that eliminates all bed bugs. This service is performed in just one day and eradicates bed bugs in all stages of development.
Don't Let The Bed Bugs Bite!
If bed bugs have been making your life miserable, it's time to do something about it. With Neighborly Pest Management's range of bed bug control treatment methods, we'll find the right one to treat your infestation. Whether in its earliest stages or widespread, we will eliminate the bed bugs in your home. Contact us to schedule your free inspection.
Request Your Free Inspection
Complete the form below to schedule your no obligation inspection.