What are birds?
Birds like pigeons, sparrow, starlings, and other problem birds are often described as pest birds. In large populations, these birds, have the potential to become very problematic for both home and business owners. They cause damage, pose health risks, are difficult to control and get rid of, and in general, are a nuisance to contend with day after day.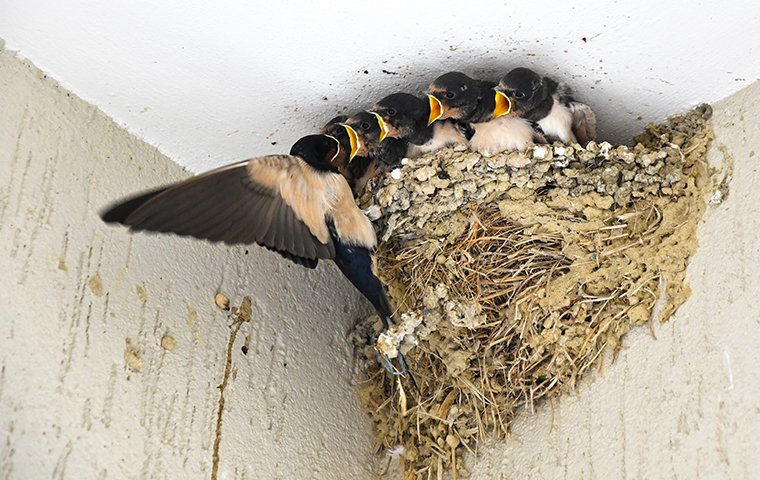 Are birds dangerous?
Birds can contaminate food, water, and anything else they come into contact with. They release airborne spores in their feces that, when inhaled, can cause illness. These birds also carry disease-carrying parasites that spread their own set of diseases to people and pets.
In addition to the health risks they pose, birds are also very damaging pests. In fact, pest birds are responsible for millions of dollars in damages to properties every year. Bird droppings are corrosive and eat away at roofing and other structural material. Their feathers and nesting debris can clog machinery and cause electrical shorts and fires.
Why do I have a bird problem?
Pest birds have come to expect people and our properties to provide them with easy access to food and shelter. Outdoor eating areas, parks, trash cans, gardens, and bird feeders attract many species of pest birds. They nest and roost on the roofs of our buildings, and they drink from our clogged gutters, dripping outdoor faucets, and birdbaths.
Where will I find birds?
Pest birds live and cause problems for people, whether you live in the heart of the city, the suburbs, or a farming community. They roost, forage for food, and become a source of economic loss in a variety of places including:
Yards and homes

Warehouses

Barns

Under bridges
Parks

Crop fields

Golf courses
How do I get rid of birds?
For home or business owners who want to get rid of birds from their property, partnering with the local pest control experts at Neighborly Pest Management is your best solution. We are the greater Sacramento area's best defense against pests. For more than four decades, we've been committed to keeping homes and businesses free of insects, rodents, and more. Our professionals work with our customers to control pest bird populations. Learn more about our 100% guaranteed bird control services by reaching out to Neighborly Pest Management today!
How can I prevent birds in the future?
Partnering with a professional is the best way to prevent problems with birds and other pests. In addition, the following prevention tips will help to keep birds off of your property and out of your Northern California home.
Never purposely feed pest birds on your property.

Remove things that attract birds, including birdbaths and bird feeders from your property.

Get rid of their easy access to food sources by keeping locking lids on trash cans, dumpsters, and compost bins. Keep outside eating areas clean and free of debris.

Keep gutters free of debris to prevent water from pooling in them, remove birdbaths, and fix leaky outdoor fixtures to help reduce their access to water on your property.
Request Your Free Inspection
Complete the form below to schedule your no obligation inspection.