What are pantry pests?
Pantry pests are those insects, usually weevils, moths, and beetles, that live and breed on dry goods (whole or processed) stored in kitchen and pantry areas. These pests are a common problem inside any structure where food is stored or prepared. The damage to dry goods occurs after a female pantry pest lays its eggs on a stored food product. Once the larvae hatch, they feed on that food, contaminating it with their saliva and excrement. All stages may cause food contamination, but the larval stage is responsible for most of the problems associated with these pests.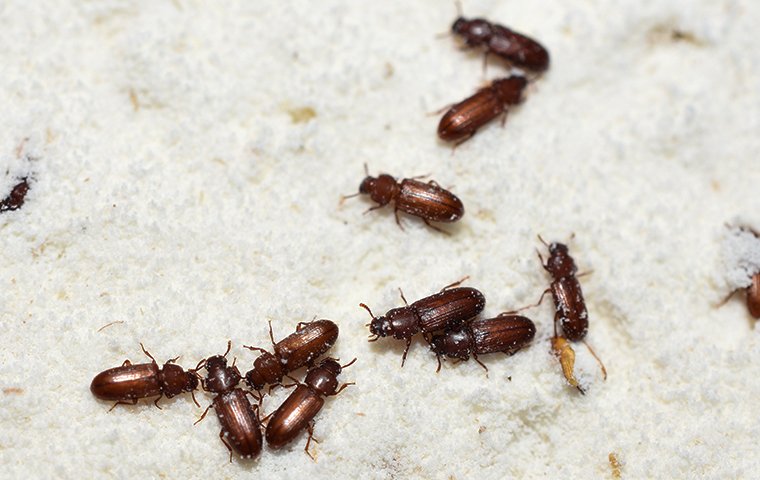 Are pantry pests dangerous?
The biggest issue with pantry pests is the amount of food they can contaminate and make inedible. These pests are not dangerous but can be costly as you must discard the food they infest due to contamination. Another problem associated with these pests is that they breed quickly. A small pantry pest infestation can quickly become large and difficult to control within your home or business.
Why do I have a pantry pest problem?
A pantry pest infestation usually originates at food processing plants. After that, food products infested with pantry pest eggs or larvae make their way into homes and businesses. While not as common, adults also find their way into homes through spaces around windows and doors. Once inside, they will take advantage of any available access to dry goods.
Where will I find pantry pests?
Pantry pests live successfully in a variety of places including:
Homes

Grocery Stores

Pet stores
Pharmacies

Food processing facilities

Food storage facilities
Pantry pests feed on a variety of dry goods, including whole grains, pasta, cereal, flour, cornmeal, dried fruits, spices, cake mixes, chocolate, tobacco, birdseed, and dry pet food.
How do I get rid of pantry pests?
Partnering with the local pest control experts at Neighborly Pest Management is your best solution for home or business owners who want to get rid of pantry pests from their property. We are the greater Roseville area's best defense against pests. For more than four decades, we've been committed to keeping homes and businesses free of insects, rodents, and more. Our professionals work with our customers to get rid of pantry pests. Learn more about our 100% guaranteed pest control services by contacting Neighborly Pest Management today!
How can I prevent pantry pests in the future?
Partnering with a professional is the best way to prevent pantry pests and other pests. In addition, the following prevention tips will help to keep pantry pests off of your property and out of your Northern California home:
Do not purchase dry food products with rips or tears in the packaging, and avoid buying dry goods in bulk.

When coming home from the store, remove food from its original packaging and place it in plastic or glass containers with airtight lids.

Always store dry pet food in metal containers with a locking lid.

Keep adult pantry pests out of your home by installing weather stripping around windows and doors. Replace any damaged window or door screens.

Replace white outdoor lights with yellow or LED lights, which are less attractive to pantry pests and other insects.
Request A Free Quote
Complete the form below to schedule your no obligation inspection.