What are bed bugs?
Adult bed bugs are parasitic insects that grow to about 1/4 of an inch in length and are reddish-brown. Immature bed bugs (nymphs) look similar to the adults but are smaller and yellowish until they have their first blood meal. These insects feed solely on the blood of mammals, with people being their primary and favorite food source. Bed bugs live throughout the United States and travel on people and their belongings from place to place. It's believed that the ease and affordability in which we can now travel has allowed bed bug populations to explode.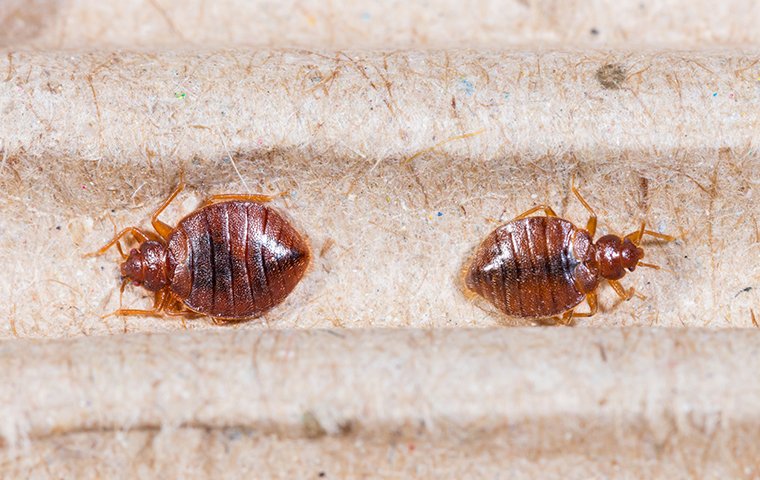 Are bed bugs dangerous?
While not considered dangerous pests, bed bugs are unwanted pests. Bed bugs do harbor some disease-causing pathogens, but the main concern is that their relentless bites create sleepless nights and lots of stress. Those allergic to the bed bug's saliva develop a red raised rash that is very itchy. Another problem with bed bugs is that they cause damage to our property. They stain things like floors, walls, bedding, furniture, mattresses, and box springs with our blood and their excrement.
Why do I have a bed bug problem?
Bed bugs move from place to place in our California service area by crawling through walls, floors, and onto people's belongings or clothing. Bed bugs also hitchhike their way into homes inside used appliances, box springs, and furniture.
Where will I find bed bugs?
Libraries, movie theaters, museums, schools, hotels, hospitals, shopping centers, cruise ships, and airports are examples of places bed bugs live and people may contact them. After coming into contact with bed bugs, people unknowingly introduce them into their homes.
Inside homes, bed bugs usually first take up residence in areas where people sleep. Some of the bed bug's favorite hiding spots are the seams of mattresses and box springs, cracks in wooden head and footboards, and spaces behind wall hangings. However, it is important to know that bed bugs can infest any room in a home. Over time, if a bed bug infestation is allowed to continue, they will travel throughout your house, invading multiple rooms.
How do I get rid of bed bugs?
Partnering with the local pest control experts at Neighborly Pest Management is your best solution for home or business owners who want to get rid of bed bugs from their property. We are the greater Roseville area's best defense against pests. For more than four decades, we've been committed to keeping homes and businesses free of insects, rodents, and more. Our professionals work with our customers to control bed bug populations. Learn more about our 100% guaranteed bed bug control services by contacting Neighborly Pest Management today!
How can I prevent bed bugs in the future?
Partnering with a professional is the best way to prevent bed bugs and other pests problems. In addition, the following prevention tips will help to keep bed bugs off of your property and out of your Northern California home.
Reduce hiding spots that bed bugs can take advantage of by placing bed bug-proof covers over mattresses and box springs.

Use caution when buying used mattresses, box springs, and furniture; there could be hitchhiking bed bugs inside.

Keep your home free of clutter where bed bugs can hide.

When spending time in public places or at work or school, always keep your personal belongings away from other people's, and keep them up off the ground.

Always inspect hotel rooms for signs of bed bugs before bringing luggage and personal belongings inside.

Regularly vacuum your home and wash bedding on a high heat cycle.
Request A Free Quote
Complete the form below to schedule your no obligation inspection.