Problem With Stinging Insects
It's no secret that pests make life less fun and, in some cases, more difficult. Stinging insects are no exception to this fact, which is why so many people seek a solution that works to eliminate them from their property.
As a rule, stinging insects leave behind a painful sting with minor swelling. However, the full range of symptoms and severity is dependent on the type of pest that attacks. Some examples of additional symptoms that may require medical attention include but aren't limited to:
Nausea and vomiting

Weak pulse

Anaphylactic shock
While there are several types of stinging insects in the Roseville area, the most common you'll face are wasps. More specifically, you have to watch out for paper wasps and yellow jackets.
What You Need To Know About Stinging Insects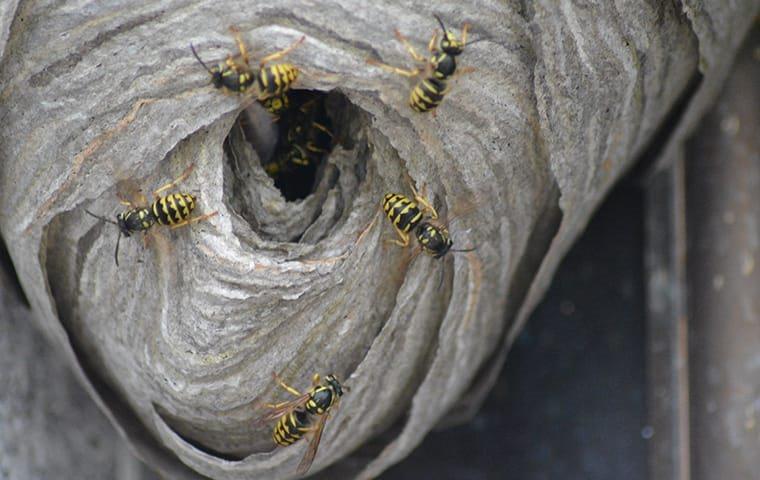 Wasps, among other stinging insects, are known for their painful sting and the potential for an extreme reaction. However, there are some things everyone should know about stinging insects that go beyond the initial sting, such as:
Highly aggressive: As a rule, stinging insects are extremely aggressive. In fact, yellow jackets will attack unprovoked, making it difficult to eliminate them from the property safely.
Hospitalization: While anaphylaxis is scary, it doesn't always require hospitalization. However, most stinging insects attack in swarms. The more stings you suffer, the more likely you are to require a hospital stay.
Common nesting sites: Fortunately, their nests are easy to locate. Pay attention to spots like ceiling beams, under eaves, garages, and porches.
Thanks to the potential danger, the best thing you can do when facing a stinging insect infestation is to trust professional stinging insect control services for a complete solution that keeps you safe.
What We Do For Our Customers
At Neighborly Pest Management, we understand that stinging insects and other pests don't belong on your property. That's why we work quickly to resolve your pest problems so that you can get back to regular life.
We follow a specific process that begins with a comprehensive inspection. We'll check for nests, entry points, and the type of stinging insect that has invaded during the inspection. Once we've gathered the needed information, we get to work on your control treatment plan. While we customize our approach to your situation, you can expect the following services:
Exterior treatment

Interior treatment, as needed

Wasp nest removal

Bee nest relocation
At Neighborly Pest Management, we take your pest problems seriously, which is why we're standing by to assist you from start to finish. With over 40 years of experience and offering pest control services in Roseville, Folsom, and Elk Grove, you can count on us to keep you stinging insect-free.
Request A Free Quote
Complete the form below to schedule your no obligation inspection.