The conversation usually starts like this: Help! I have bed bugs! It is amazing how these tiny insects can cause such fear, particularly considering there are no real-world cases of disease transmission from bed bugs to humans. The fear surrounds the fact that these insects come out at night to suck blood. Nothing more. How do you feel about bed bugs? If we were to say, "Raise your hand if bed bugs creep you out," would you slip your hand up? If so, we get it. We hear it all the time. But, as creepy as it is to think about these insects biting you while you sleep, digging into the topic can help you understand how bed bug control works to prevent bed bug bites. Join us today as we look at how to tell if bed bugs are biting you, why bites cause infestations to get worse over time, and how bed bug bites play a critical part in how bed bugs spread. At the end, we'll tie things together and share some tips to help you prevent an infestation or get control of bed bugs that have found their way into your home. If you need bed bug control services in Roseville and you don't have time to read an article, remember that the service team at Neighborly Pest Management is always available to help you with solving pest problems. Reach out to us at any time to speak with a professional. You can do this by phone, e-mail, or chat.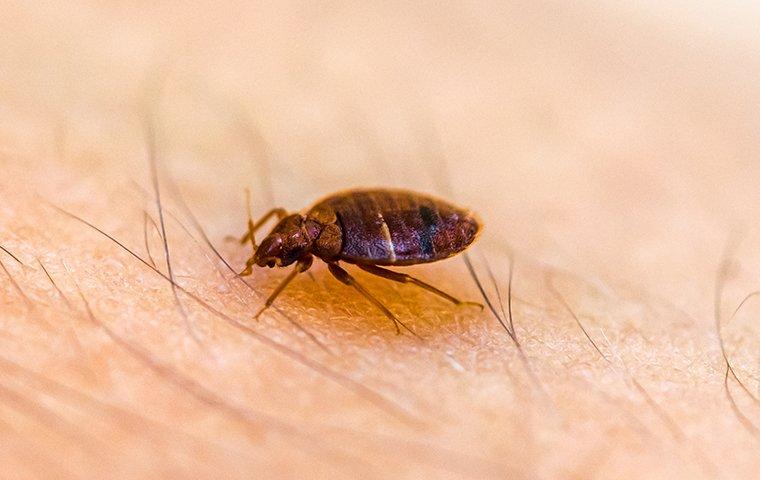 How To Tell If It's Bed Bug Bites
Why is it important to know what bed bug bites look like? There are a few reasons. First, bed bug bites on you and others in your home provide a warning that you have these pests lurking in the shadows. Early detection and fast resolution can prevent bed bugs from getting on friends and family and returning later after you've dealt with your infestation. Second, bed bug bite detection can help you tell when you no longer have these pests in your home. If you attempt to control them yourself, detecting warning signs, like bites on your skin, will help you to know you were successful. Finally, identifying bites on others, or bites on yourself, can help you prevent bed bugs from hitching a ride home with you. Whether you stay in a hotel or at the home of a friend, bite detection is essential for bed bug prevention. We'll talk more about how bed bugs spread in a moment. Before we get to that, we need to quickly break down the anatomy of a bed bug bite.
Is there a rash? Bed bug bites are often associated with a rash. Even the slightest bump caused by a tiny baby bed bug can result in a rash that spreads further than the other bites surrounding it. If you find a rash on your skin with lots of little bumps in it, you may have bed bug bites. It is also possible that you simply have a rash. Some rashes are prickly. You can get a rash from skin contact with an allergen or have an allergic reaction to something you've eaten.
Do you have a few bumps in a row? When an individual bed bug bites you on your skin, it is likely to repeat the action three times if it can. The result is a line of bites or a slight zig-zag of bites. Most other pests don't create a line or zig-zag because each pest only bites once. For example, mosquito bites look like random bumps all over your skin.
Do you have a significant number of bumps? When several bed bugs bite you, you'll have three times the bite wounds. It doesn't take many bed bugs to cause a lot of bumps.
Do the bumps create a path on your skin? When several bed bugs move across your skin, biting as they go, they'll leave bumps that look like a pathway. Not unlike goats moving through a yard and eating all the vegetation as they go.
Where are the bites? Bed bugs are attracted to carbon dioxide and will tend to bite toward the top of the body, near the head and on skin that is not covered by blankets. But they are not limited to only biting exposed skin. You can find bites running up your sides or on your legs and feet. Bed bugs will do whatever is necessary to get a blood meal.
These facts can help you narrow the possibilities of what pest is biting you, or identify bed bug bites when you see them on others. It isn't easy or straightforward, but you are far more equipped to catch bed bugs if you know these characteristics of bed bug bites.
How And Why Bed Bug Infestations Get Worse With Time
There are many reasons why bed bug infestations only worsen. We're only going to provide one today. The focus of this article is on bed bug bites. You may not realize it, but the reason bed bugs bite you is connected to why an infestation will grow worse the longer you have these pests in your home. Many insects feed on foods that are not found in your home. If these pests get inside, they die off. Many pests can eat food in your home, but preventing this can deter these pests and cause them to die off. Are you seeing where we are going with this? Bed bugs feed on human blood. It is the food that sustains them and allows for reproduction. While depriving pests of food is a great way to naturally prevent and stop pest problems, there is no natural pest control for bed bugs. When these blood-eating insects get into your home, it is time to contact a licensed professional for bed bug removal.
How Bed Bug Infestations Spread
The number one question we get about bed bugs in Roseville is, "How do bed bugs spread?" The simple answer is that bed bugs spread through the movement of people and belongings. They climb into objects in one location and move to another when those items are moved. Once they arrive at a new location, they continue to spread within the structure as they grow a population. But the more complicated answer is that bed bugs are motivated by food resources.
If bed bugs are transported to a location that does not have any food, guess what happens? They'll quickly start looking for food in other spaces within the structure. For example, bed bugs that emerge from luggage in one hotel room may go into walls and pass to an adjacent room if the one they emerge in does not have guests for a while.
If bed bugs get into a home, they're going to stay near their preferred food source at first. They will start in survival mode. Once they grow their population, they'll spread to other rooms. In a multi-family dwelling or apartment, they may pass between units by way of the walls. Catching bed bugs early can help prevent the migration from one zone to another.
Bed bugs prefer human blood. They're also attracted to items we wear or things we've touched. If you set your luggage down on a bed or floor while staying in a hotel, bed bugs may get inside. That is why professionals suggest storing luggage high, keeping luggage in a sealed plastic bag, or applying a lavender spray to mask the scent of what is inside your luggage.
The Most Effective Bed Bug Control Solution For Your Home
We hope you now have an understanding of how bed bug detection, potential risks, and blood as a food source all play critical roles in preventing infestations. But, what can you do if you already have a bed bug infestation? The most effective bed bug control solution for your home is to hire a professional pest control company. Professional pest control companies have the experience and equipment to effectively get rid of bed bugs. We're also able to provide you with advice on how to prevent bed bug infestations in the future.
If you're in Roseville, you can count on Neighborly Pest Management for assistance. We provide exceptional service and science-based solutions for bed bug control in Roseville. Our pest management professionals use a combination of conventional treatments, steam, and the deployment of a heat chamber. Conventional methods target and eliminate bed bugs and provide residual control after treatments. Steam is an all-natural method for eliminating bed bugs that are hiding in the cracks or just below the surface of mattresses, box springs, and upholstered furniture. A heat chamber deployed on site can treat objects that have bed bugs inside. Together, these provide the best solution for bed bug infestations of all sizes. If you have questions, please contact us. We're happy to help you get the answers to your questions and a fast resolution to your bed bug problem.